Good Neighbor Project
We began in 2009 by providing groceries, gift cards and phone and personal visits to a neighbor in need. The legacy of this project was the ongoing supply of $10 grocery cards for people in need who walk in off the street and ask for help. Through the initiative of a parishioner we have been able to supplement the cards with vegetables grown on the grounds.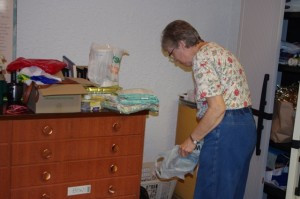 In the spring of 2010 we changed the focus of the Neighbor Project to provide basic household supplies for families in need through Catholic Family Services. This service has assisted over 60 families in 2 ½ years. We give away new or gently used bed and bath linens, dishes, cutlery and cooking utensils, pots and pans, cleaning supplies, hygiene supplies, small appliances and age appropriate toys and books.
Parishioners and their families and friends have been very generous with donations of items and cash. People are so pleased to share what they have when they know that a family in need will benefit directly. The recipients and the workers are so grateful and impressed with the items that we are able to provide.
Mass Schedule
| | |
| --- | --- |
| Thu | 8:30am |
| Fri | 8:30am |
| Sat | 5:30pm |
| Sun | 9:00am |
| Mon | No Mass |
| Tue | 7:00pm |
| Wed | 8:30am |
All Services