The Good Neighbour Project
UPDATE...
What is it?
The Good Neighbour Project started in our parish in mid 2010 with a small goal: Collect gently used small household items from parishioners and help 4 or 5 families in need in our community. Twelve years later we are still going strong. We have helped more than 400 families.
Our project works together with social service organizations in our community, including Catholic Family Services, the Early Childhood Intervention Program, and the Archdiocese of Regina. Sometimes parishioners or community members ask us to help others. One of the many benefits of working with these organizations is the assurance that families who receive these donations are supported throughout the difficulties they face as we help them to recover and thrive.
The people who receive our donations include newcomers to Canada, families struggling with addiction, violence, poverty, or displacement. They include single parent families and multi-generational families. Most of our donations go to families with children. They are grateful to receive this support.
Why?
Offering this support helps alleviate some of the stress these families are under. They do not have to give up other necessities to buy all the things we can provide to start or restart a home. It is a helping hand for a fresh start. Providing this assistance also helps St. Anne's and its members fully live out their Gospel values.
How You Can Help:
Donate new or gently used household items that are clean and in good repair. There is a list of desired items on the back. *We do not take clothing or furniture. *
Donate food like proteins (canned meats, fish, beans, peanut butter), canned fruits and vegetables, soups, noodles, rice, snacks, tea, coffee, powdered milk.
Donate money. We use these donations to buy necessities that are not often donated like pillows, garbage cans and bags, hygiene items and cleaning supplies.
Steak Night. A great way to visit with parishioners and friends and to raise some money for our project.
Pray for the people receiving our gifts; for the donors; for our workers and the professionals who care for these families. Pray for our parish that we may remain generous, compassionate, and kind.
This support is so gratefully received, and it costs us so little to help those in need.
The Good Neighbour Project
Donation Wish List
Bedding: flat/fitted sheets, pillowcases, blankets comforters & quilts

Towels: bath/hand, face cloths

Kitchen linens: dish towels & cloths, oven mitts, potholders

Dishes, cutlery, silverware, glasses (plastic and glass)

Cooking utensils: egg turners, ladles, mixing spoons, potato peelers, scissors, whisks, can openers, paring knives

Mixing bowls, measuring cups & spoons, baking sheets, cutting boards, casserole dishes

Water pitchers, reusable plastic containers

Small appliances: kettle, toaster, coffee maker, microwave, clocks

Cooking pots and pans

Laundry baskets, storage tubs, reusable shopping bags

Toilet tissue, facial tissue, paper towels

Laundry detergent, dish soap, all-purpose cleaner

Clean garbage cans (kitchen or bathroom), pails, cleaning cloths or sponges

Travel size toiletries: shampoo, soap, body wash, hand lotion

Toys, books & puzzles for children
**No clothing or furniture, please**
Good Neighbor Project
We began in 2009 by providing groceries, gift cards and phone and personal visits to a neighbor in need. The legacy of this project was the ongoing supply of $10 grocery cards for people in need who walk in off the street and ask for help. Through the initiative of a parishioner we have been able to supplement the cards with vegetables grown on the grounds.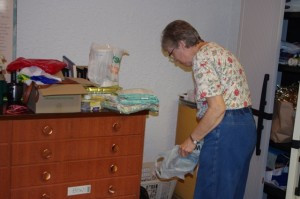 In the spring of 2010 we changed the focus of the Neighbor Project to provide basic household supplies for families in need through Catholic Family Services. This service has assisted over 60 families in 2 ½ years. We give away new or gently used bed and bath linens, dishes, cutlery and cooking utensils, pots and pans, cleaning supplies, hygiene supplies, small appliances and age appropriate toys and books.
Parishioners and their families and friends have been very generous with donations of items and cash. People are so pleased to share what they have when they know that a family in need will benefit directly. The recipients and the workers are so grateful and impressed with the items that we are able to provide.
Mass Schedule
| | |
| --- | --- |
| Sat | 5:30pm |
| Sun | 9:00am |
| Mon | No Mass |
| Tue | 7:00pm |
| Wed | 8:30am |
| Thu | 8:30am |
| Fri | 8:30am |
All Services