Posted on: March 24, 2020
Rays of Hope

The sun never quits shining. Sometimes clouds just get in the way.
Your Pastoral & Finance Councils are with you in this uncertain and unprecedented time in our world's history. We hope that our parish email communications have helped to connect and inform you of the changing directives and restrictions we are experiencing for our St. Anne Parish Community.
The purpose of today's communication, though, is to share some updates and rays of hope and light with our parish family.
We are grateful to Father Peter who has been celebrating daily mass for the needs of St. Anne Parish.
Groups within our parish have been adapting and continuing to meet through video conferencing as a means to finding ways to accomplish their work and respect everyone's need for physical distancing. We acknowledge these and everyone's efforts to stay active in our parish life and support each other:
The RCIA Journeying in Faith group continues their faith journey on Tuesday evenings. Please continue to pray for Ray Arscott, Evan Olson and Danelle Hendren.
Sacramental preparation also continues. Please pray for Torin Robertson and Ife Obasi.
Conquest has set up online forums for some of its teams and many of the boys have been interacting daily to pray the rosary and do a gospel reflection. This forum also provides the boys with an opportunity to discuss and understand the changing world around them.
Our Catholic Women's League Council has been providing ongoing communication and prayers to CWL members, including Stations of the Cross reflections.
The leadership teams of the parish (Pastoral Council, Finance Council, COVID-19 Response team) have all been extremely active through email and phone meetings - not only among the teams but also in collaboration with Father Peter - to ensure the parish needs are planned for.
Pastoral Council is initiating a Pastoral Care Plan to personally connect by phone with parishioners in an effort to check on how they are doing and whether they have particular needs. Initially this will be targeted toward those in our parish who we do not have an email contact. As you may know the Archdiocese of Regina Samaritan Project has been set up to deliver essentials to those in need. Our connection efforts are meant to support and dovetail with this project where possible. If you know names of parishioners without email contact, please leave a message with the parish office @ 306-586-0449.
Due to the closing of the seminary, with blessings and gratitude from Bishop Don and Fr. Peter, St. Anne is offering a home and refuge for Deacon Christopher Juchacz and Deacon Andrew Lindenbach. They will be moving into our rectory this week. We welcome them with (virtual) open arms as they finish their studies and exams in preparation for their priestly ordinations.
Prayers of the Faithful for Sunday, March 22 (4th Sunday of Lent)
For God's protection for all of God's children, for the health and safety of everyone during this time of the COVID-19 pandemic, we pray to the Lord.
For continuous coordinated efforts among individuals, nations and societies as we all work together to prevent further spread of the coronavirus, we pray to the Lord.
For healthcare workers and all who are on the front-lines, especially those in positions of vulnerability as they work to serve their neighbors, we pray to the Lord.
That in addition to following all the recommendations of the healthcare professionals, we also remember to appeal to God in prayer, we pray to the Lord.
For those are sick and suffering, especially for those who are isolated and without help, for their healing, we pray to the Lord.
For those who have died - especially our beloved, long-time parishioner, Joan Niesner - for eternal rest for their souls, and for peace and comfort for those they left behind, we pray to the Lord.
Jesus Christ, stay with us as we endure and mourn, persist and prepare. In place of anxiety, give us your peace.
Jesus Christ, heal us.
Denise Nelson, Pastoral Council Vice-Chair
Trevor Novak, Finance Council Chair
PS. Below is a list with tips when praying along to a virtual mass (also good ideas when making any spiritual communion from home).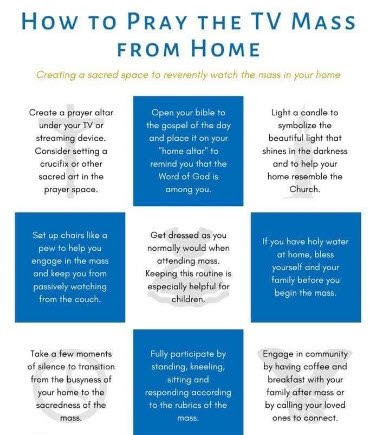 Posted on: March 21, 2020
Important Updates From The Parish Staff
St. Anne Access for personal prayer (time change)
As of Friday, March 20, all masses and parish activities are suspended until further notice. (In keeping with the Code of Canon Law no. 87, Bishop Don has granted dispensation from our Sunday obligation until further notice.) Father Peter is available to administer Last Rites. In this case or in an event of a death, please contact Shannon Novak (Pastoral@StAnnesRegina.com).
As previously stated, St. Anne Church will remain open to the public for private prayer and devotion only, however the hours have been changed from 9:00–11:00am weekdays. Please ring the doorbell at the office entrance and you will be let in.
- Please do not come if you (or someone in your household) are not feeling well.
- We wish to stress the importance of not compromising your health by venturing out into public places. For this reason, we ask that all seniors and people in the at-risk category please not come to the church until the pandemic has passed.
Confessions
Confessions are available by calling Father Peter at 306-586-0060.
In Spiritual Communion with the Church
Mass is being offered around the world daily, often with only a priest present. We can participate in the sacrifice of the mass even in this time where we are not able to attend. Our pain, suffering and isolation are offered on the altar and united with Christ by those priests in the presence of the angels and saints.
Please note that Father Peter has assured us that he is offering daily mass for our parish family.
Caring for our Parish Community
We recognize that we have some members who do not have access to emails. We want to ensure we connect with every parishioner. If you have some time and can help make some phone calls or, perhaps, run errands for others, please let Shannon Novak or Denise Nelson kno
Shannon - Pastoral@StAnnesRegina.com, 306-585-1609
Denise - ViceChair@StAnnesRegina.com, 306-550-2884
Annual General Meeting
The St. Anne Parish AGM (Annual General Meeting) has been postponed.
Staying up to date
We will do our best to keep the website updated with resources or important notices. Please refer to it for ways to make a spiritual communion or other articles that may be helpful for your spiritual and emotional needs at this time.
Yours in Christ,
Shannon Novak
Posted on: March 19, 2020
COVID-19 - Update: March 19 2020
Sunday and weekday masses suspended until further notice
As of Friday, March 20, Sunday and weekday masses are suspended until further notice. (In keeping with the Code of Canon Law no. 87, Bishop Don has granted dispensation from our Sunday obligation until further notice.)
St. Anne Church will remain open to the public for private prayer and devotion weekdays from 8am-noon. Please enter by the Office door, We kindly ask that all who enter be conscientious of our the need to keep our parish sanitized and disinfected so please stay within the designated areas.
Information regarding Holy Week celebrations will be forth coming from our Diocesan office. In the meantime, you may read more here: https://archregina.sk.ca/news/2020/03/18/archbishop-donald-bolens-letter-suspension-mass-due-covid-19
Finally, in our efforts to keep St. Anne parishioners safe, we will postpone our Annual Meeting (originally planned for March 29). However, please note, you may find our 2019 Annual Report posted on our website. (http://www.stannesregina.com/).
Eucharistic celebrations live-streamed
Recognizing that the celebration of the Eucharist lies at the very heart of our spiritual lives, a roster of clergy, including Bishop Don, will celebrate daily and Sunday Masses from Resurrection Parish in Regina. To participate, see link below.
https://livestream.com/accounts/17094656
Other ways to make a spiritual communion:
Bishop Barron - https://www.wordonfire.org/daily-mass/
EWTN - https://www.ewtn.com/catholicism/daily-readings
Catholic TV - http://www.catholictv.org/
Stations of the Cross
As we move through the Lenten season, let us unite our universal sufferings to the suffering of Christ on the Cross. Although we may not be able to participate in this prayer as a group, we can follow along on our own.
1. Music Opening- Feel the Nails by Ray Boltz (5:24)
https://www.youtube.com/watch?v=davpAvF-RY4
2. Stations of the Cross from the Holy Land (27:35)
https://www.youtube.com/watch?v=-uofRteUvhQ
(EWTN is a global, Catholic Television, Catholic Radio, and Catholic News Network that provides catholic programming.)
3. Music Closing - Were You There// featuring Andrea Thomas -(5:35)
https://www.youtube.com/watch?v=fpSScICWJ9M
Special thank you to Denise Nelson and Roberta Walsh for sharing these resources with us.
May we join together in prayer and service this Lent so as to open ourselves to God's grace, that the God who raised Jesus from the dead may also use this experience of suffering to show us a glimpse of the resurrection.
God bless you and keep you.